Škocjan Caves – UNESCO heritage worth visiting
Date: 27 May 2017
The Škocjan Caves are a natural wonder of immense value on a global scale, standing shoulder to shoulder with the Grand Canyon, the Great Barrier Reef, the Galapagos Islands, Mount Everest, etc.
The caves are home to the largest known underground canyon in the world (up to 146 m), which is one of the features that makes it worthy of the UNESCO World Heritage List. There are three other UNESCO sites in Slovenia: the primeval beech forests in the Krokar virgin forest reserve and the Snežnik-Ždrocle reserve, the town of Idrija with its decommissioned mercury mine of former global importance and the Ljubljana Marshes with the heritage of ancient pile dwellers.
The Karst cave nowadays features several kilometres of tourist paths with as many as 500 steps. Along the path, which also leads you across spectacular bridges, it is possible to see underground waterfalls, immense chambers, giant dripstones up to 15 metres high, and other creations of the subterranean Reka River. Surrounding the Škocjan Caves is a regional park – an area of protected natural and cultural heritage. There are several education and bike trails in the park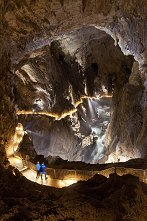 The moderately difficult circular Škocjan Education Trail takes hikers about an hour and a half to complete and leads them along the rims of the Big and Little collapse dolines in the heart of the park. The information and education signs teach you about the main characteristics of the karst phenomena, many curiosities of the animal and plant world in the Karst and the rich cultural heritage and history of this area.
The Škocjan Caves Regional Park lies on the Classical Karst, which is where the term "Karst" comes from. It is located in the Municipality of Divača, 15 km from Italy (Opčine/Opicina), 80 km from Ljubljana in the direction towards Koper and 12 km from the Lipica Stud Farm. The park covers 413 ha and includes the villages of Matavun, Škocjan and Betanja.