ŠILENTABOR - FOLLOWING THE TRACES OF ANCIENT CIVILIZATIONS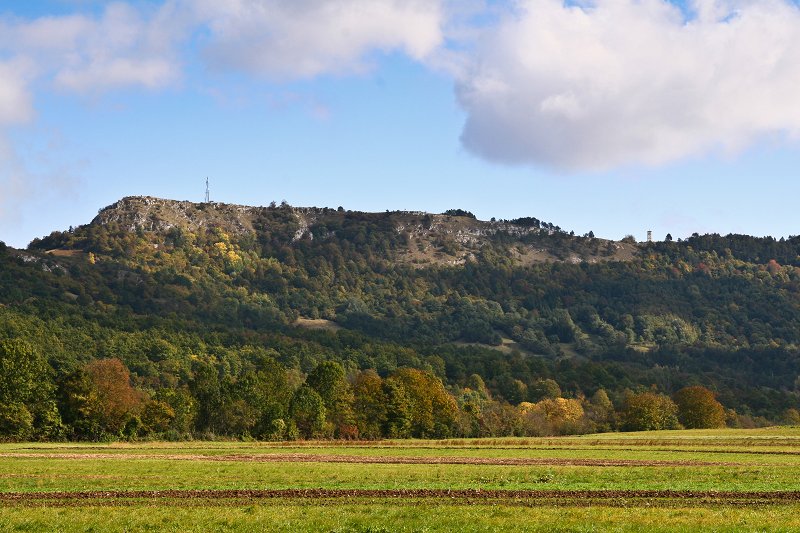 Date: 26 September 2022
Explore the lost history of one of the largest fortified anti-Turkish complexes in Slovenia. Through the archaeological remains, touch the life of prehistoric settlements and follow the trail of the legendary salt smuggler along the Krpan route.
During the Turkish invasions, Šilentabor upon Zagorje (751m) became one of the largest fortified complexes in Slovenia, surpassed only by Celje Castle and Castel Kostel by Kolpa river.
It was built with the aim of protecting this area from Turkish incursions and preventing the Turks from accessing the central Slovenian area. At one of the most strategically exposed points of the wider area of Postojna Gate, you can therefore enjoy a view of Javorniki, Snežniški pogorje, Vremščica, Nanos, Brkini and Italy.
The ridge of Šilentabor separates the upper Pivka from the Košanska valley, and today only the church of St. Martin stands on it, with the tomb in which Andrej Danijel Raunach, bishop of the former Istrian diocese of Pičen, is buried. The church has foundations dating back to late antiquity. In its nave, you can find stone decorations of folk stonemasons, who in the 17th century spread across Pivka and left many traces on houses and churches. According to some assumptions, even the ancient Stridon, the birthplace of St. Jerome, one of the greatest church teachers, was supposed to stand here.
The only medieval castle in these parts was built next to Šilentabor, which was completed in 1471 when the Turks first arrived at Pivka. In its 50 huts and barns, residents of the surrounding villages from both sides of the ridge found shelter from the Turks and other robbers.
After the anti-Turkish danger passed, the locals used the construction material from the anti-Turkish walls to burn lime. Medieval architecture was thus literally boiled for lime, which was then used for construction in the area of today's villages. Many limestones are still present in the local landscape.
Maybe you didn't know?
From Šilentabor, you can follow the rugged karst landscape along the Krpan route to the hill Primož upon Pivka (718 m), which was fortified as an important strategic point already in the Iron Age. In the 1930s, the Italians built a large underground fortress on top of the hill which was one of the most fortified points in the eastern part of the Alpine Wall. The fortress on Primož has a total of 471m of underground tunnels dug into the living rock and smoothed with concrete.
Along the ridge, there are nine more documented prehistoric sites. One of the most interesting is the construction site at Čepna, discovered at the end of the 19th century. Weapons, tools, buckles, stationery, jewelry, gambling tokens from the Roman era, a Late Bronze Age ax, and an Iron Age buckle were found within its walls. The things that don't belong together are from a span of 4000 years. It is assumed that a Roman sanctuary existed here after the abandonment of the prehistoric settlement in the same place.
From Šilentabor, go above Podtabor, where a macadam path winds along the foot of the wall. It leads through a 72-meter-long tunnel carved into the living rock all the way to Šilentabor and Ratečev Brdo. Some also call it Mussolini's tunnel, as it was built by the Italians during the war to connect important military facilities and points.
Šilentabor Castle was said to have been destroyed and burned by punters, as the last battle of the last all-Slovenian peasant revolt took place right in this area. After the restoration, the castle was badly damaged by lightning in 1700, and it was finally destroyed by the French in the Napoleonic Wars 100 years later.
Through Šilentabor there is also a cycle tour called the Castle trail, which was arranged as part of the activities of the MerlinCV project, Interreg Italia-Slovenia by the Municipality of Pivka